BEANLAND FAMILY
Tom and Lydia had 10 children, all of whom were educated at the Woodford State School.
HERBERT PREVOST, after his mother's maiden name, married Annie McLauchlan.
Herbert purchased land at 60 Archer Street, Woodford, on 11 May, 1896, and adjacent on 7 November, 1900. In due course he acquired part of the Durundur Estate at Mary Smokes Creek and took up residence as a dairy farmer prior to marrying Annie. Later he became a teamster owning a magnificent team of 26 red bullocks before returning to dairying.
In later years Herbert, having sold his original properties, retired to Archer Street, Woodford. Herbert appears on the 1902 Moreton State Electorate Roll as a timber-getter, having been enrolled on July 1, 1899.
MARGARET ELIZABETH called herself Ellie when she took up house duties at the Globe Hotel, Brisbane. She never married.
She lived for some years at 449 Miltion Road (Corner Jones Street), Auchenflower. However, owing to deteriorating health, on medical advice she sought a drier climate. After taking up brief residence in Dalby and Taroom, she moved to Stanthorpe passing away there from tuberculosis.
ALICE LYDIA married Tom Kearnan and lived in Toowoomba. Tom and Alice moved to Taroom to manage Chincinda Station, 60 kilometres north of Taroom. After the property was sold, they lived in Taroom township, Tom establishing a stock and station agency.
EDWARD THOMAS ‑ Ned as he was known ‑ married Eve Hosier and lived in Woodford for a time, owning a sawmill. For a short time after selling the mill, Ned farmed at Goomeri, after which he moved to Newmarket, Brisbane, establishing a carrying company.
ARTHUR COURTICE married Evelyn Litherland. While a teamster he won a ballot for a Property in Woodford where he and Evelyn went to live. Arthur eventually purchased his father‑in‑law's property at Mt Mee, where they spent most of their life.
WALTER GEORGE married Annie O'Brien and took up residence at Stoney Creek and a few years later moved to Woodford, purchasing a home in Archer St. Like others in the family, Walter became a teamster in the timber industry. He sold his team and was employed by Hancocks to rail logs from Woodford to their lpswich sawmill. In the 1940's he became an auctioneer, valuer and commission agent until his retirement.
EDITH MAUD married John Adolphus King when she was 18 years of age. John first asked for Edith's hand in marriage when she was 17 but was refused. She was the youngest daughter of Tom and Lydia and bore their first grandchild, Vera Irene King, now Maher, born June 26, 1905.
After marriage John and Edith bought George French's mixed business in Woodford for which Vera, after leaving school, did the buying. In 1924 the family moved to "Garthowen", Lancelot Street, Wilston, Brisbane,
When Edith was just 40 years of age she passed away from pneumonia on a very cold winter's day.
MARK HENRY, known as Harry, married Ruby Pointon. Harry's life was cut short by a blood clot after having an appendicitis operation in the Kilcoy Hospital. After Harry's death Ruby moved from Toogoolawah and acquired a shop in Kilcoy. She kept the shop until her retirement. They had no children.
THOMAS ALFRED married Hilda Raeen. Thomas Alfred, known as Fred, was a keen sportsman who enjoyed football, athletics and boxing. Boxing was his favourite sport, and he won a gold medal in the lightweight division at the Woodford tournament in 1912.
In 1913 while working as a teamster with his own team in the Kilcoy District, Fred won a land ballot.
Fred continued to work his team while clearing his land for dairy farming, and sold his team in 1920. He was a very keen exhibitor at the Kilcoy Show, and grew countless varieties of produce just to improve his exhibit. He played a button accordion and regularly supplied music for country dances.
CHARLES HENRI, the youngest child, died of war wounds in France, aged 23 years. He joined the Australian Imperial Force on September 8, 1915, aged 19 years, 11 months, being 5 ft 7¾ ins in height, and weighing 10 st. 7 Ibs.
On June 1, 1918, he rose to the rank of Second Lieutenant in the 25th Battalion after having been wounded in action several times.
"The Official History of Australia in the War of 1914‑1918" by C.E.W. Bean Vol. VI p. 299 mentions Lt. C.H. Beanland being mortally wounded at the Battle of Hamel. He was mortally wounded in the abdomen on the morning of July 4, 1918, and died on the same day.
Charles played the piano and is remembered on his father's tombstone in the Woodford Cemetery.
HONOURS
Two members of the family have received honours and awards.
LINDA EILEEN BEANLAND on 19 January, 1979, was awarded The Imperial Service Medal. Citation: For service to Queensland Railways.
MRS MAVIS PEARL DANIELS on 26 January, 1985, was awarded The Medal of the Order of Australia in The General Division. Citation: For Service to the Sport of Lawn Bowls.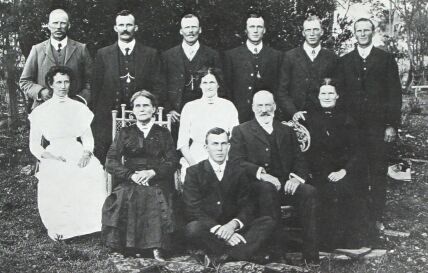 Beanland Family
Back Row: Herbert, Edward, Arthur, Walter, Mark, Thomas "Fred".
Centre Row: Margaret, Lydia, Edith, Thomas, Alice.
Front Row: Charles.

Beanland Family
Thomas in tree.
Back Row: Edward, Eve, ?, Annie (Walter's Wife), Ruby, Annie, Herbert, ?.
Front Row: Alice, Edith, John King, Margaret, Walter, ?.
| | |
| --- | --- |
| Herbert and Annie Beanland. | Margaret Elizabeth ("Ellie") Beanland. |
| Edward and Eve Beanland with sons Reg and Cliff. | Walter and Annie Beanland. |
| John and Edith King. | Mark Henry "Harry" & Ruby Beanland. |
| Thomas "Fred" & Hilda Beanland. | Charles Henri Beanland. |
| (R.H.) Thomas Kearnan and son Walter. | Evelyn, wife of Arthur. (photo: in later life) |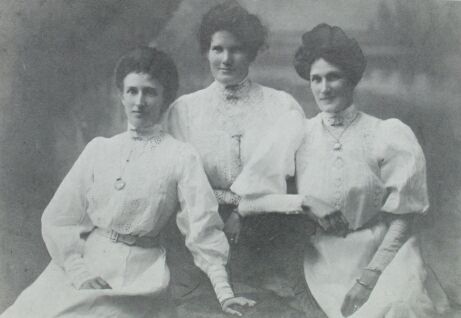 3 Daughters. From left to right: Margaret Elizabeth, Alice Lydia and Edith Maud.
---
© 1993,2002 Denver Beanland